The Lakhimi Sanchay and Rindan S.S. Limited is a credit cooperative Society, Which started on the 6th. June 2008 at Bordoloni as a Shelf-Help group with 11 members. Step bye step peoples are accepting it's membership and enjoy benefits. The society adopted policies regarding equal participation of the members. The society availing affordable financial services to it's members, like small savings and micro credit at a minimum cost. The society also provide digital payments services like – AEPS, DMT, M-ATM, BBPS, INSURANCE PREMIUM PAYMENT etc., which in affordable price at door step.
The society approved large number of shares regarding membership and expanding its Area of operation. The Society has 17,428 members as on 31-03-2021.
The organiser and founder leader of the society is Mr. Dipen Chutia said – "The journey of the society is very interesting and experience full". He is a great leadership personality regarding growing up the society. He is in the post of Managing Director of the society. He has good experience and well knowledge on entrepreneurship. Over the last decade society getting benefits of a quality leadership.
The president of the society Mr. Biman Sonwal elected by the General Assembly was held on August 26, 2010. He is an honest and disciplined person, who always hardly working towards development of the society. He is highly respected and popular person among the members.
On January 28, 2011, the society registered under the Assam Cooperative Societies Act, 1949 (1 of 1950), and issued Registration number is – DJ270 (B). The registered address of the society is Dhemaji Tiniali, Ward No.-2, Dihingia Market, NH-52(15) Near Pramod Bhawan, P.O. & Dist.- Dhemaji, Pin-787057, Assam.
Current amendment of the Assam Cooperative Societies Act, 2007(Act, IV of 2013), and rules there under, we amend our bye-laws according to the Act, and Rules or any other provisions uncovered in this Act shall be following. Whereas it is expedient further to facilitate the formation and working of Co-operative Societies for the purpose of thrift, self-help, mutual aid and creating the quality creditworthiness among agriculturists, artisans and other persons with common economic needs so as to bring about a higher standard of living, better business, better methods of production, equitable distribution and exchange and for that purpose to consolidate and amend the law relating to Co-operative Societies in the province of Assam.
Awareness on saving habits, health & education and availing financial support to the members. The society also involving itself in Digital India and Cashless India programme. We also contribute on national financial inclusion mission towards last person of the state who are living in rural and remote areas.
We also provide digital financial services and digital literacy and soft skill development programmes. We are promoting women empowerment and equal participation in social development activities. We support to the socially weaker section of our civil society to uplift their livelihood. We, promote the cooperative agendas and encouragement towards of cooperative activities.
A large number of peoples are enjoy benefits of our services and contribute. We are very happy with the equal participation and well coordination of the members.
AIM AND OBJECTIVES OF THE SOCIETY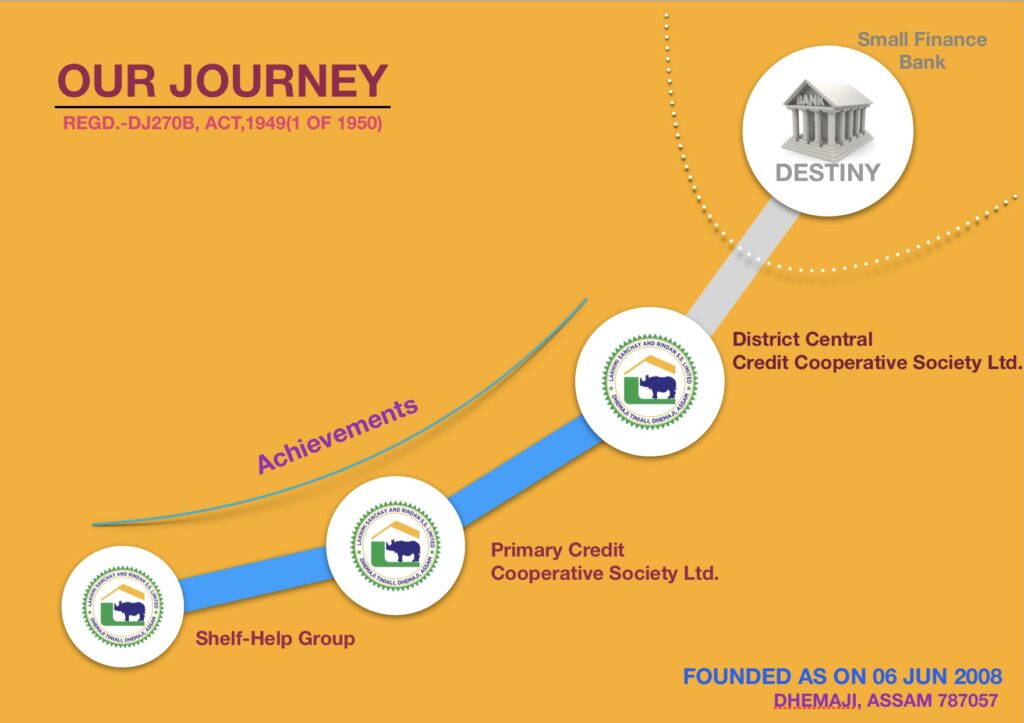 The Society is involved in the following Social Activities :
1. Awareness Programme on Health and Finance :
We organize awareness meetings on health care and social justice. Sometimes doctors coordinate with us and provides medical camps in the remote areas and try to educate peoples about their health and diseases.
We are providing health card to all members of our society. This health card will privileged its owner with discounts on availing diagnosis on our network diagnosis centers which are available all across the State of Assam.
3. Member Welfare Funds :
We are providing financial protection towards borrowing members and their families through this fund. In case of borrowing member (accidentally) become physically disabe or death, the refundable loan amount will be freed-up to Rs. 50,000.00 together interest. This scheme covering only those members who are borrowing Rs. 50,000.00 or below thereunder. This scheme shall provide financial support regarding small borrowers/weaker section of member of the society and relax it's guarantee.
4. "Protect Me"- Scheme :
This is a fund which provide financial assistance towards it's employees and voluntary workers of the society's. The one-third percent of the capital for this Scheme is raised from its employees and remaining two-third percent is given by the Society itself. In case of serious medical treatment of the employees and workers of the society, we shall provide Rs.10,000.00 immediately under this Scheme and which does not need to be refunded. This Scheme covers all its employees with health insurance of 3 Lacs and also accidental death insurance of 5 Lacs.
5. "Sikriti"- A Programme on Skill Development :
The society arrange various comprehensive training programme from time to time in the meaner of skill development. The society encourage self-employment, self-help group and team work on agricultural productivity.
6. "Sambardhana"- A programme on Successor :
The motto of the society is to up-lift the social, cultural and economic status of its members. In the interest of the said motto of the society we arrange a public meet to welcome successful persons once in every year and encourage the new generation to achieve success in their life.
The employees, voluntary workers and members of the society implement plantation schemes time to time on road sides and schools & colleges. The society is also working on environment related jobs.
There are 4 types of shares of the society. The values of the shares defined by the General Body of the society as herein :
A – class =100/- (One hundred only).
B – class = 20,000/- (Twenty thousand only).
C – class= 10,000/- (Ten thousand only).
D – class = 110/- (One hundred ten only).
To provide affordable financial services.
Business principle : "Not profitable but sustainable".
Skill development and employment generation.
To encourage for good health and well education.
To promote cooperative activities.
To provide right time financial support.
We are members welfare organization.
Door step deposit and withdrawal facilities.
Instant Micro Loan Solution.
High rate of interest on Deposit.
Low rate of Interest on Loans.
0 %  interest scheme also available with us.
Quick response on digital solutions.
Trusty relationship with customers.
Village level door step networking activities.
Large numbers of volunteers engagement on the ground level.
Real time refund settlement.
ATM, mATM, online payment facilities available.